Fellowship
Fellowship events of the Lions Club Phuket Andaman Sea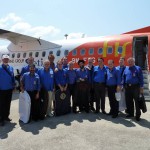 Last week a huge delegation of our Club was flying to Penang George Town to visit our fellow Lions of the Lions Club George Town for their 47th Club Anniversary and for the Banquet Dinner with the Lions World President.
The four days were full of fun and we met old friends from the Malaysian Lion Clubs, the Japanese Lion Clubs, the Club from Singapore and others like from Macao, Hong Kong and Indonesia.
A big thank you to our fellows from the Lions Club Penang George Town for their great hospitality and organization. We look forward to welcome all of you this year on Phuket.
Please see here a few pictures of that four days in Penang.
Welcome to the new web site of the Lions Club of Phuket Andaman Sea.
Please feel free to browse around the site, see our amazing activities of the past years as well as our long term projects.
If you want to join us for a meeting please feel free to contact us.
We Serve
Lions Club of Phuket Andaman Sea