· Legal issues:
The 'Phuket Sunshine Village Foundation' was finally established on the 17.08.05. The foundation consist of each four members of the Lions Club of Phuket Andaman Sea and 'Child Watch Phuket', a very active organization in the Phuket region for over a decade. Click here to see the Foundation Documents. The Phuket Sunshine Village Foundation will be responsible for construction and running the center.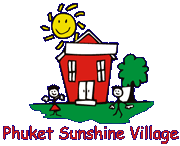 Objectives of the PSV foundation are:
1 - To prevent and protect children in Phuket from physical, mental and sexual abuses.
2 - To provide assistance to children facing risk of danger quickly in time, systematically and under proper technical principle.
3 - To give knowledge on legal rights to children and the public.
4 - To give services on education and hygiene to less fortunate children.
5 - To arrange or cooperate with other charitable organizations for public benefits.
6 - To abstain from any political activities.

For more info about the PSV Foundation go to: www.phuketsunshinevillage.org


· Finding land : NEWS (click here)
We have bought a beautiful piece of land, on Koh Sireh. The land is 5000 sqm and perfectly located in a very quiet area and just 500 m. away from a school. An additional 3000 sqm of National Park, that is next to our land, can be used for free, as a garden and playground. To see some pictures of the land and the land paper click here.

· Planning the Village:
After a detailed research about the various styles of Children's Villages we came to the conclusion that the concept of the SOS Kinderdorf would be the best available one for us. For a detailed description please go to the 'Concept' page.


Approval from SOS Kinderdorf:
We have finally received a letter of approval from the SOS Villages d'Enfants of Luxemburg. We are officially granted permission to adapt the concept of the SOS Kinderdorf for our Phuket Sunshine Village. Read the letter click here!


· French Red Cross:
The Lions Club is pleased to announce that the President of the "Croix Rouge Francaise" (French Red Cross), Mister Jean Francois Mattei has verbally confirmed during his visit to Phuket, that our project will benefit from their support. An official partnership agreement will be finalized once a detailed budget for the construction costs is completed.

· Finding an architect:
After various meeting we came to an agreement with TOMARYK DESIGN, one of Thailand's leading architect firms. They have agreed to take on the architect work for the Children's Village. For further info about TOMARYK DESIGN visit their web site at: www.tomaryk.com

NEWS: The architect drawings have been finalised and delivered to us! To see the final plan for the village, click here!

Construction License:
On the 27.10.05 we have applied for a construction permit at the land office in Phuket Town. In the picture below you can see our IPP Lion Peter and our construction manager Sombat signing & handing over all necessary documents.
· Finding qualified people:
We have secured the support of some very qualified and experienced people who have been and are still involved in various Child support projects in Phuket Province . They are more than willing to assist and become involved with us in our project.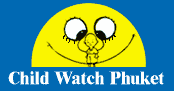 NEWS: The Lions Clubs of Phuket Andaman Sea came to an agreement with the well known and highly respected 'Child Watch Phuket', run by Dr. Supaluck.
Child Watch Phuket will be responsible for running the Children's Village employing staff and certainly providing a home for the children.

· Meeting with the Governor:
Lion President Olinto Barletta and I.P.P. Lion Peter Wesche met with Phuket Governor Udomsak Usawarangkura on the 05.07.2005 to introduce our Children's Village. The Governor was quite impressed with our Project and offered all possible help to ensure a quick realization of completing our foundation and construction.
· Interview with Thai Media:
Andaman News, TV11 & FM90.5 Phuket 8.30am Wednesday 17 August 2005
Check newspaper web site:

From Newspaper Web Site:
Our interview today is about a new project to build a Children's Sunshine Village of homes which can accommodate up to 100 orphans and children in need from Ko Sirey sea gypsy community of Phuket Town. Yesterday we met up with Olinto "Lupo" Barletta, President of the Lions Club of Phuket Andaman Sea and Dr. Supaluck Kanjanamethakul, the Chairperson of Childwatch Phuket, two charities bringing this project together. We asked Lupo first to tell us more about the Lions Club volunteering work here. Click here to see video clip from the interview!