Sister Club(s)
Sister Club(s) of the Lions Club Phuket Andaman Sea
The President of our Sister Club Nagao, Lion Yoshiaki Murao and the whole Tanobe family visited us on Phuket.
Thank you Lion Giorgio and Lion Narin for you kind hospitality and sponsoring of the two very delicious dinners for the fellowship.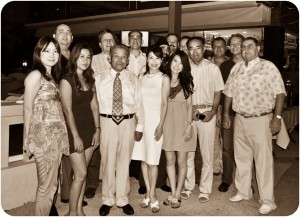 We look forward to welcome more fellow Lions next months for the big anniversary celebration.
The Lions Club Phuket Andaman Sea has a so called "Sister Club" in Japan which is the Lions Club of  Nagao.
Our fellow Lions in Nagao organized a fund raising and collect money for their fellow citizens which are badly effected by the earthquake and the Tsunami.
The Lions Club of Phuket Andaman Sea and its members as well as a guest Lion, the son of Lion Giorgio and the whole staff of the Tropica Bungalow & Restaurant in Patong Beach, Phuket raised in the last meeting already 141,500 .- THB which is around 376,609.- JPY .
If you want to participate in this fund raising effort, contact us or please transfer your donation for the Japan Tsunami Relief on our donation account and write in the subject of the payment slip "TSUNAMI RELIEF JAPAN" .
Thank you very much to all private donations of our Club Members ( L.Giorgio, L.Peter, L.Holger, L. Holger B., Christian, L. Andreas, L.Gerar, L.Franky, L.Oliver) and our Lion Guest L. Hans as well as Thomas (son of L.Giorgio) and the whole staff of the Tropica Bungalow & Restaurant in Patong Beach, Phuket.
Last week a huge delegation of our Club was flying to Penang George Town to visit our fellow Lions of the Lions Club George Town for their 47th Club Anniversary and for the Banquet Dinner with the Lions World President.
The four days were full of fun and we met old friends from the Malaysian Lion Clubs, the Japanese Lion Clubs, the Club from Singapore and others like from Macao, Hong Kong and Indonesia.
A big thank you to our fellows from the Lions Club Penang George Town for their great hospitality and organization. We look forward to welcome all of you this year on Phuket.
Please see here a few pictures of that four days in Penang.
Welcome to the new web site of the Lions Club of Phuket Andaman Sea.
Please feel free to browse around the site, see our amazing activities of the past years as well as our long term projects.
If you want to join us for a meeting please feel free to contact us.
We Serve
Lions Club of Phuket Andaman Sea