On Saturday the 8th of October 2011 the annual 4 club celebration took place at the Merlin Hotel in Phuket Town.
As every year, representatives of our sister clubs joined us for this celebration.
A big thank you to all participants to join us for that celebration night.
Lion Thomas got his Lion of the Year 2011 trophy… Congratulations.
Please see below some pictures of that day.
The President of our Sister Club Nagao, Lion Yoshiaki Murao and the whole Tanobe family visited us on Phuket.
Thank you Lion Giorgio and Lion Narin for you kind hospitality and sponsoring of the two very delicious dinners for the fellowship.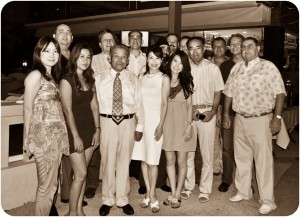 We look forward to welcome more fellow Lions next months for the big anniversary celebration.
Thank you very much to all fellow Lions from the Lion Club of Phuket Andaman Sea and Lions from the other Lion Clubs in Phuket (Lions Club Phuket Pearl, Lions Club Phuket and Lions Club Patong Beach), our fellow Lions of our sister club from Penang / Malaysia, Lions Club Penang Georgetown as well as many distinguished guests of the Phuket community to attend the installation of the new Board of Directors 2011 / 2012 at the Hotel Blue Ocean Resort in Patong.
Lion Dr. Supaluck Supaluck Kanjanamethakul (Lions Club of Phuket Pearl) first dismissed the old BOD and after that she introduced the new BOD of the Lions Club of Phuket Andaman Sea.
The new BOD of 2011 / 2012 you can find here.
A special "Thank you" to our Lion President Narin Narin Sethichaiyen for his generosity to invite all guests for this beautiful event.
And here a few pictures of the installation night…..
(Please click on the small pictures to get a bigger view)