Become a member of the Lions Club of Phuket Andaman Sea
Did you ever consider to become a Lions Club Member?
We are inviting you to be a member of our club and do something for the people in need on Phuket.
Lions all over the world are "A light at the end of the tunnel" for the weakest in our society.
Come and join us.
How? Just contact us and we will let you know more.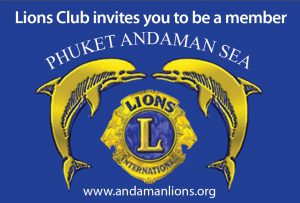 Bicycles for the PSV
The Lions Club Of Phuket Andaman Sea at the Phuket Sunshine Village Foundation in Koh Sirae . We support the kids with 14 bicycles worth THB 18,000.- . It's always a pleasure to see this smile on the kids faces when they get new toys….